DURHAM RECREATION & PARK DISTRICT
Adult Lap Swim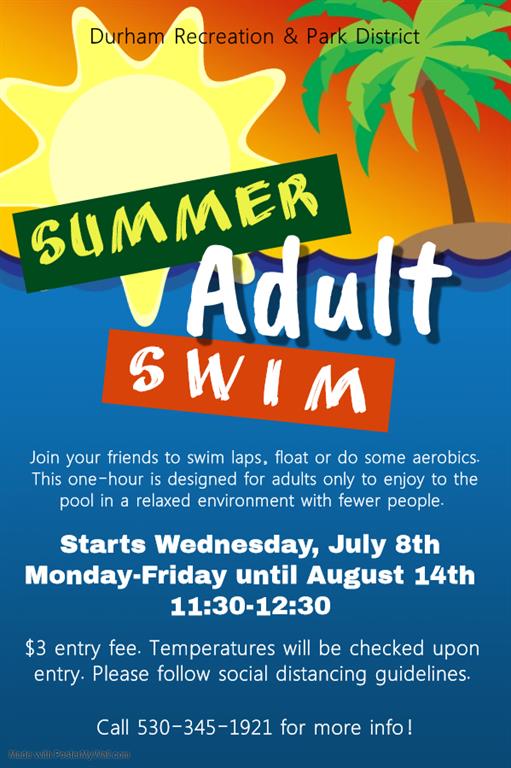 POOL OPENING!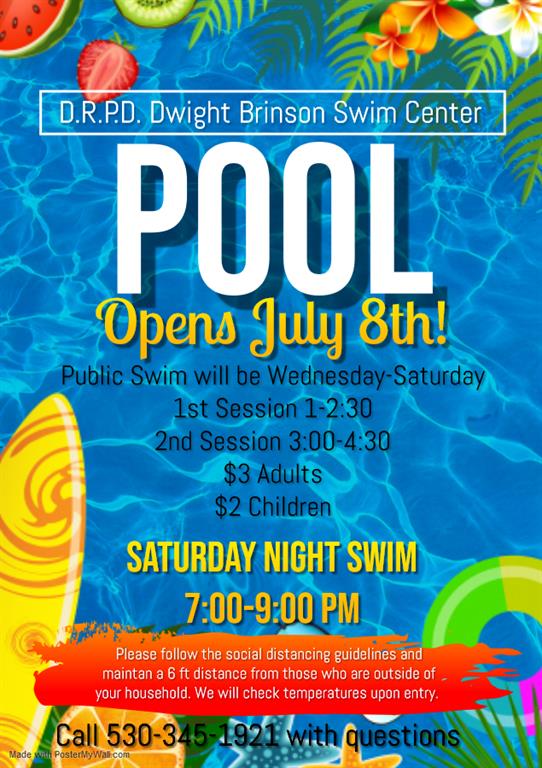 SAME AMAZING POOL!
A little different schedule!

We have been working hard to get the pool open for public swim and are excited to announce the date for the first public swim of the 2020 season: Wednesday July 8th!

To follow the social distancing guidelines, we will limit the total number of people inside the facility. We are increasing our cleaning and disinfecting efforts

Temperatures will be checked upon entry
No pool passes this year
$3 for adults, $2 for children
Session 1 is 1-2:30 (first come first served)
Session 2 is 3:00-4:30 (first come first served)
Night swim on Saturdays 7:00-9:00
(The facility will be cleared out between sessions to allow for proper cleaning and disinfecting. If the facility is full for the 1st session, you can put your name on the list for session 2, and we can hold your spot until 3:15)
Our snack bar will be open!
Credit Cards will be accepted!

Thank you for understanding and working with us as we navigate these changing times, and we appreciate your cooperation with our new guidelines.

We are so excited to see all of you at the pool!
Welcome to D.R.P.D.!
The District is a public service agency created by the people to provide for parks, recreational areas and facilities to meet both present and future needs of the community. Durham Recreation & Park District is made up of five community parks, Veteran's Memorial Hall, swim center, and activity center.